17 July 2017, the day marks the beginning of two important events, the Presidential Polls and beginning of the Monsoon Session.
The monsoon session of Parliament will start from Monday and will continue till 11th of next month.
The Prime Minister expressed gratitude towards all parties for supporting the Government in bringing historic economic reforms like preponing of Budget Session of the Parliament and bringing in the Goods and Services Tax (GST).
The dastardly Amarnath terror attack was strongly condemned by the Lok Sabha MPs.
Observing that differences with China over Kashmir was a new focal point, the Congress today said it would seek a debate in Parliament on the issue, while asserting that the party stood with the government on matters of territorial integrity and national security.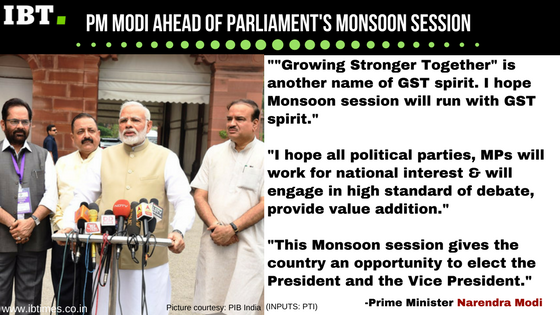 As Venkaiah goes for VP polls, BJP shifts focus on cabinet expansion, party revamp
Meanwhile, the polling for the President election is underway at the Parliament and the various state Assemblies. The members also mourn the death of Amarnath terror attack victims. "As a responsible and principled Opposition party, we shall be raising all these issues and many more", Congress spokesperson Randeep Singh Surjewala said. 16 Bills are listed for introduction, consideration and passing.
CPI-M leader Mohammad Salim said apart from issues concerning tension on the border, his party will raise the issue of mob lynching and the agrarian crisis. Rahul Gandhi and leaders of the party in both houses of Parliament were among those present.
If parties like Mamata Banerjee-led TMC and Lalu Prasad- led RJD attack the government over the action of law enforcement agencies such as the CBI and the ED against their leaders over alleged corruption, the treasury benches too would use the issue to underline their anti-corruption credentials.
The Prime Minister also called on all the parties to support the war against corruption, which has been initiated by the government.
PA ANALYSIS: Weak inflation casts uncertainty over United States rate rises
Japan's yen-sensitive Nikkei slid 0.4 per cent on the yen's gains but MSCI's dollar-denominated Japan index gained 0.5 per cent. Money markets pricing suggests less than a 50 percent chance of a hike over the next year, according to CME's FedWatch tool.